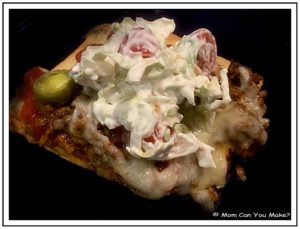 One of our favorite pizza places in Portsmouth, NH has our favorite Mexican pizza but we don't always have time to go into Portsmouth so what's a girl to do? Make my own version right? Well, this is not exactly like the restaurant version and it is definitely a little spicier, but the cool lettuce and tomato slaw on top cools it right down. You can also change the spice level by using mild salsa and leaving the jalapeño's off. I made this one Saturday afternoon and shortly after I made it we had some neighbors pop over so I was thrilled to see how they liked it. I did not tell them it was my creation before they ate it so I was thrilled when they both cleaned their plates and said how much they liked it! I knew Jim and I liked it but it's nice to have some additional feedback. I also made a gluten free version for Robby using gluten free crust and gluten free taco seasoning. Robby loved his pizza too! If you want to keep it dairy free, don't use the sour cream and use dairy free cheese.
INGREDIENTS
Pizza crust of your choice, store bought, home made or dough from your favorite pizza place
1/2 pound ground beef
2 Tablespoons of taco seasoning, I use low sodium
3 Tablspoons water
1/2 cup of salsa, I used medium spice
1/2 cup shredded Monterey Jack cheese
1/2 cup shredded cheddar cheese
1/4 – 1/2 cup jarred sliced pickled jalapeños, depending on how much you want
TOPPING ingredients
1 cup shredded lettuce
1 cup cherry tomatoes, halved
1 cup sour cream
FOR A GLUTEN FREE PIZZA – like this one
Use a gluten free crust and gluten free taco seasoning. To make this dairy free leave out the sour cream and use dairy free cheese.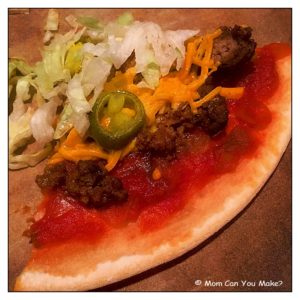 DIRECTIONS
Preheat oven to 450 degrees. Lightly spray sheet pan with non-stick spray. Flatten the dough forming your crust. Prebake the crust for 3-4 minutes partially baking it. Remove from oven. In the meantime, heat a skillet to medium heat and add your ground beef. Cook ground beef breaking into crumbs as it cooks, drain excess liquid from the pan and add the taco seasoning and water, mix to combine and finish cooking. When cooked through, remove from heat.
To assemble, add your salsa to the top of your pizza crust and spread to about 1/4 of and inch to the edges, add the ground beef mixture and cover the salsa, add the cheeses spreading over the beef. If desired add the sliced jalapeños. Place back in the oven and bake an additional 8 minutes.
While the pizza is baking combine all of the topping ingredients together and set aside. When pizza is cooked through remove from oven, let rest for just a couple minutes, slice and add a spoonful or so of the topping. Serve warm.
Enjoy!