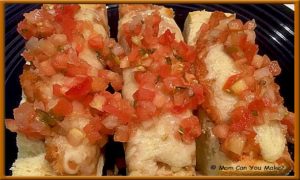 This is a super simple five-ingredient dish! Jim loves anything with a Mexican or Tex Mex flavor so he loved this dish! I, on the other hand, am not a huge fan of refried beans so this was not a huge favorite for me. Jim and I both agreed this would make a great party appetizer. I would slice them a little smaller than shown in the picture here.
INGREDIENTS
1 crusty Italian loaf
1 can (16 oz.) refried beans – I used the spicy version
1 cup sharp cheddar cheese, shredded
1 cup Monterey Jack cheese, shredded
1 1/2 cup homemade or store-bought pico de gallo
DIRECTIONS
Preheat oven to 350 degrees. Slice bread in half lengthwise and then in half widthwise and place cut side up on a baking sheet. Spread about 1/4 of the can of refried beans on each slice of the cut side of the bread. Top each slice with both kinds of cheese.
Bake for 15 minutes or until cheese is melted. Cut into 1/2 inch slices and top each slice with a spoon full of pico de gallo. Serve warm.
Enjoy!