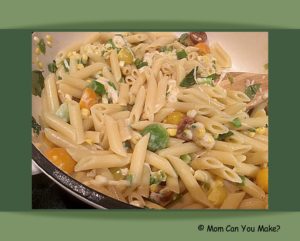 Summer is getting started and all of the amazing fresh vegetables are starting to show up at all of the grocery stores and farmers markets! This was a simple fresh pasta dish using using some of those amazing veggies with a little bit of heat coming from the jalapeño! I don't make many of Rachael Ray's recipes, but I have to say I enjoyed this pasta dish, it was something totally different for us.
INGREDIENTS
3 ears of fresh corn
3 Tablespoons extra virgin olive oil
2 jalapeño pepper, chopped
1 bunch of scallions, white and light green parts, chopped
2 large garlic cloves, chopped
Salt
Pepper
2 pints cherry tomatoes, I used heirloom tomatoes
Hand full of basil leaves, torn
1/2 cup Mascarpone cheese
1 pound penne pasta
Juice of 1/2 lemon or lime, I used lemon
Grated Parmesan cheese, I used about a cup to a cup and a half
DIRECTIONS
Bring six quarts of water to a boil for pasta.  Invert a small bowl into a large bowl and stand the corn on its end on the small bowl and scrape kernels from the cob with a knife, repeat with the remaining corn.   Heat a large skillet with a lid over medium high heat with extra virgin olive oil. Add corn, jalapeño peppers, scallions,garlic, salt and pepper.  Sauté 3 – 4 minutes, add tomatoes and basil, cover pan and cook 7 – 8 minutes, stirring occasionally.
While the tomatoes cook, cook pasta in liberally salted water for 1 minute less that the package directions call for. Reserve about 1 cup of the pasta water, then drain the pasta.
Stir in the Mascarpone into the sauce, then add the pasta, the reserved pasta water and a couple handfuls of grated Parmesan. Toss and serve warm.
Enjoy!