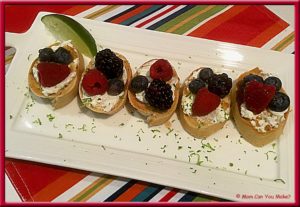 This week I have a couple recipes for your Fourth of July barbecue or any of your summer gatherings! The first one is this berry/Lime crostini. So easy and easily can make a couple dozen depending on how thick you slice the bread. The bread can be toasted in your oven or lightly grilled. I used a combination of raspberries, blackberries and blueberries, but these would be great with strawberries too, or any combination your family likes. These take no time to make and should be served immediately.
INGREDIENTS
1 French baguette, sliced on a diagonal 1/4 – 1/2 inch
Whipped cream cheese, about 1 Tablespoon per bread slice
Raspberries, blueberries, blackberries – or your choice of berries
Honey to drizzle
Zest of 2 limes
DIRECTIONS
Place your bread slices on a baking sheet and place in the oven on broil, keeping the oven cracked open slightly, DO NOT WALK AWAY…these toast up very quickly! Or place the bread slices on your grill and lightly toast one side. Remove from oven or grill. Top each slice with about 1 Tablespoon of the whipped cream cheese covering the bread slice, top with berries, drizzle lightly with honey and zest lime over the top. Do this for each slice and serve immediately.
Enjoy!