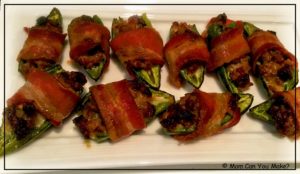 We loved these jalapeño bites! Spicy from the jalapeño and the "hot" sausage cooled slightly with the cheese…with a crisp bite from the bacon! I made two versions, one being bacon wrapped with two kinds of cheese and the second version was gluten and dairy free without the bacon.  Robby did not want the bacon on them. But for Robby's version I used a gluten and dairy free cheese.  I made 20 bites (10 jalapeños) and let me tell you both plates were empty in record time.  We liked them so much I went to the store the next day and bought more jalapeños. The sausage makes a lot so I had plenty of the filling and bacon left. The filling is also great on nachos or even on pizza. This will be on made many times at my house, even when we hit the road camping! The filling can be made ahead and I would crisp and crumble the bacon and just put the crumbles on top for a camping version.  All you would need to do is assemble them, place on a baking sheet and grill until they are heated through! Our family likes spicy food so I use the hot sausage, but you can use the regular sausage as well.
NOTE – one jalapeno will give you two stuffed portions. I made them twice buying 20 jalapeños in total. Depending on how many you want you can purchase as many jalapeños as needed using all of the filling or using the filling for other yummy things!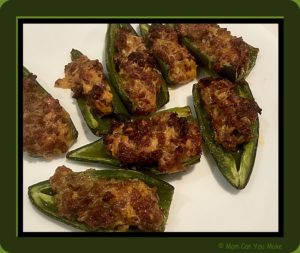 INGREDIENTS
jalapeños
1 package Jimmy Dean HOT sausage
1/2 cup shredded cheddar cheese
1/2 cup shredded Monterey Jack cheese
Bacon- I used a half slice bacon per sliced jalapeños
NOTE – If making them dairy free/gluten free use dairy free, gluten free cheese. I used Daiya brand.
DIRECTIONS
Preheat oven to 400 degrees. Line a baking sheet with foil and place a baking rack on top of the baking sheet, set aside. In a large frying pan fry the sausage over medium heat until fully cooked, crumbling the sausage as it cooks through. Drain any fat from the pan and add both cheeses, cook melting the cheese and mixing it into the sausage making cheeses goodness! Remove from heat and set aside.
Slice the jalapeños in half, using a spoon remove the ribs and seeds from the middle of the jalapeño, do this for each one. To fill, simply fill each jalapeño half with a spoonful of the sausage mixture and wrap 1/2 of a bacon slice around the jalapeño. Do this for each one and place on your prepared baking sheet with the baking rack. When all of the jalapeños are filled and wrapped bake in the preheated oven for 25 minutes or until bacon is cooked through and lightly crisped. Remove from oven and serve warm.
Enjoy!