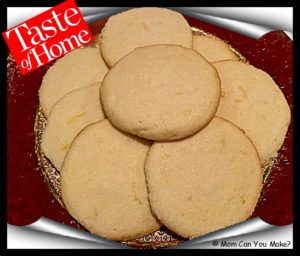 We all know what time of year it is and that means making some cookies to share with all your family and friends! Although I do bake it's not my favorite thing to do but these sugar cookies from Taste Of Home made it simple. After reading some of the reviews of this recipe I made a few small changes. The original recipe calls for vanilla extract.  I wanted something just a little different so I used lemon extract and I also added lemon zest to the batter. This recipe can be made as a drop cookie or rolled into balls.   Flatten with the bottom of a glass that has sugar on the bottom of it so it leaves a nice light coating of sugar on top of the cookies. Needless to say, this recipe is easily adaptable and it makes a lot. This made almost five dozen!
Because it made so many I was able to send some with my husband while he was flying with the Army National Guard.  During his travels, he stopped at an Air Force base where our dear friend Adam (our niece Becky's significant other, who we love) was working and could come out and enjoy a cookie or two! Needless to say, there were some happy military people today!
INGREDIENTS
1 cup of butter, softened
1 cup of vegetable oil
1 cup of sugar
1 cup of confectioners sugar
2 large eggs
1 teaspoon vanilla extract (or if making lemon, I used 1 1/2 teaspoons lemon extract)
4 1/2 cups flour
1 teaspoon baking soda
1 teaspoon cream of tartar
NOTE– if making the lemon version you will need 3 small lemons.  I zested two of the lemons into the batter and zested 1 lemon into 1/2 cup of granulated sugar I used for the top.
DIRECTIONS
Preheat oven to 375 degrees. In a large bowl beat the butter, oil, and sugars. Beat in the eggs until well blended.  Add the vanilla or lemon extract. In another large bowl, add the flour, baking soda, and cream of tartar. Gradually add the flour mixture into the butter/sugar mixture and mix to combine. If making the lemon version add the zest of two lemons and mix until combined.
If making drop cookies simply drop about a tablespoon of the dough on an ungreased baking sheet and bake for 8-10 minutes until they are lightly browned. Mine took 8 minutes.
If you want to flatten them and add the sugar on the top, place about 1/2 cup of granulated sugar onto a plate, add the zest of one lemon into the sugar and mix. Roll the dough into balls about a tablespoon or so and place on an ungreased baking sheet. Using the bottom of a drinking glass coat the bottom of the glass lightly with the sugar mixture and lightly press the dough balls down to your desired thickness. This will leave a light coating of sugar on the top of the cookie. Bake for 8 – 10 minutes.
Enjoy!