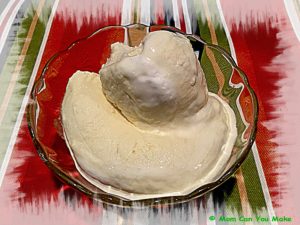 A two ingredient delicious recipe? Yes! And it's so good on a hot summer day! It is a gluten free recipe but it really makes no difference as this is so tasty gluten or not! It's also crazy easy.  It just takes some time in the freezer. Everyone in the house enjoyed this cold pineapple whip! I think this would also work well with frozen strawberries or any other frozen fruit. I think the method used here is the important part. It does take a little bit of time to incorporate the fluff into the mixed fruit, but give it a little bit of time it does come together!
INGREDIENTS
16 ounces frozen pineapple pieces
14 ounce tub of store bought marshmallow fluff
DIRECTIONS
Divide the pineapple pieces into two equal portions. Leave one portion frozen and defrost the other half either by allowing it to sit at room temperature or placing it in the microwave on low power until cold, but not frozen. Place the defrosted portion in a blender or food processor and process until smooth. Add about 1/4 cup of marshmallow fluff and the frozen pineapple to the blender and process until the pineapple is smooth. If necessary add a little more fluff and continue to process.
Transfer the pineapple mixture to a large bowl, add the remaining marshmallow fluff and mix to combine. The mixture will turn to a light yellow color.
FOR A SCOOPABLE CONSISTENCY
Transfer the mixture into a freezer safe container with a tight fitting lid and place in the freezer for at least 6 hours or overnight. If frozen for longer than 12 hours, leave the container out for about ten minutes until scoopable.
FOR SOFT SERVE CONSISTENCY
Transfer the mixture to a large Ziploc bag, fill with the mixture and close the top, place the bag in the freezer for about 4 hours or until mostly firm. Snip off the bottom corner of the bag and pipe into bowls.
Serve immediately. It will melt quick!
Enjoy!

This recipe can be found at www.glutenfreeonashoestring.com