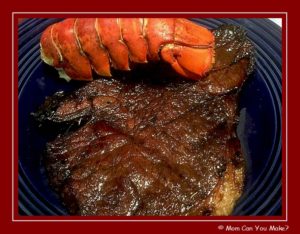 This is hands down the most flavorful marinade I have ever had. Chef Michael Symon made this on The Chew one day and all the co-hosts raved about how good it was.  I knew I had to give it a try and I'm so glad I did as it became one of my favorite steak marinades all summer long. Absolutely delicious!
INGREDIENTS
1 cup balsamic vinegar
1/3 cup brown sugar
2 garlic cloves, smashed
2 sprigs of rosemary
1 teaspoon chili flakes
1/3 cup Olive oil
Salt
Pepper
Steak of your choice, skirt steak, flank steak or hanger steak
DIRECTIONS
Season the steak with salt and pepper. In a mixing bowl, whisk together the balsamic vinegar, brown sugar, garlic, rosemary and chili flakes. Add about 1/3 cup of olive oil. Place steak in a resealable bag and pour the marinade over the steak.  Marinate in the fridge for 2 hours or up to overnight.
Remove the steak from the fridge 30 minutes before cooking. Heat grill to medium-high heat, wipe off any bits of the marinade from the steak, drizzle with olive oil and grill steak to your desired doneness.   Serve warm.
Enjoy!