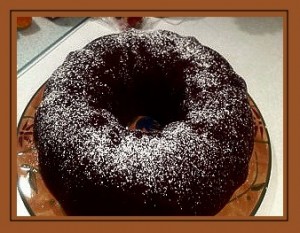 A favorite of mine and many that eat it!
INGREDIENTS
1 box of devil's food cake mix
1 package of instant chocolate pudding, dry (5.9 ounces)
1 cup of sour cream
1 cup of vegetable oil
4 eggs (beaten)
1/2 cup warm water
2 cups mini chocolate chips
DIRECTIONS
Preheat oven to 350 degrees. In a large bowl mix together cake mix, pudding , sour cream, oil, beaten eggs and water. Stir in the chocolate chips and pour batter into a well-greased bundt pan. Bake 50-55 minutes until a wooden toothpick inserted comes out clean. Cool cake in pan at least  1 1/2 hours before inverting onto a plate.
SERVING SUGGESTIONS
Dust with powdered sugar OR drizzle with salted caramel OR add a scoop of raspberry sorbet and drizzle with chocolate sauce.  OH, THE CHOICES!!!!
Enjoy!