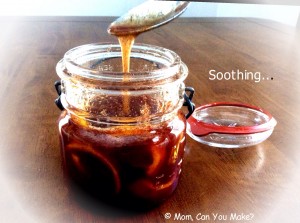 INGREDIENTS
1 cup of pure honey
1 organic lemon
1 tablespoon of cinnamon
DIRECTIONS
Mix the honey and cinnamon together in a small mason jar.
Slice 2 or 3 rounds of the lemon and slice those in half .
Add the lemon into your jar and mix well.
This will stay fresh in your fridge for long time.  You can also add more ingredients into the jar as you need it!  This is great added to a cup of warm tea, but I like it all by itself…one teaspoon at a time!
NOTE: after this is mixed and in the fridge it will go from thick to thin and syrupy, this is normal!