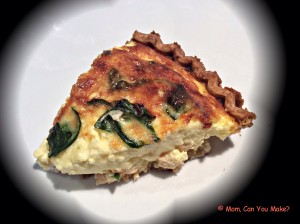 I recently came across a couple of salmon quiche recipes, but most of them used canned salmon, I have to say I am NOT a fan of canned seafood… it's just not my thing.
So the quest was on for a salmon quiche using fresh fish and this is what I came up with.  I can say it was all gone in one sitting. We all really enjoyed the fresh flavors, even my 16 year old went back for seconds! I just love that!
INGREDIENTS
1 deep dish frozen pie crust,  thawed or your favorite recipe for pie crust
1  fresh salmon fillet
1/4 cup of pure maple syrup (not the sugary stuff)
Baby spinach leaves
1 cup of cheese,  shredded.  I used Swiss, but you could use cheddar or Gruyere
4 eggs
1/2 cup 1% milk
1/2 cup heavy cream
DIRECTIONS
Preheat oven to 400 degrees. Place salmon in baking dish, pour the maple syrup over the salmon and bake for about ten minutes depending on the size of your salmon …do not overcook. Remove from oven.
Turn oven down to 375 degrees.
Let salmon cool.
Place your pie crust on a baking sheet that is covered in foil. When salmon is cooled, shred the salmon and place it on the bottom of the pie shell, top with a small handful of torn spinach. Add the cheese on top of spinach.In a medium bowl combine eggs, milk and cream. Pour over the cheese just until is reaches the bottom of the decorated edge pie crust.
Bake at 375 degrees for about 40 minutes, testing with a toothpick.
Cool for 10 minutes , slice and ENJOY!
NOTES:
I think next time I might add some roasted asparagus, this would be a great Easter brunch dish or Mother's Day dish!