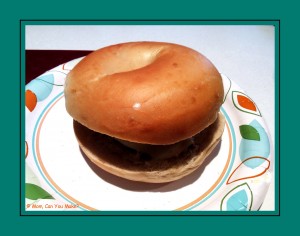 This recipe can be adjusted to everything your family likes. The key is to make all of the ingredients ahead , store them in the fridge then put them together in the morning with a quick zap in the microwave and breakfast is warm and ready to when you are. Sometimes I will warm the sandwich at home, wrap in tin foil and it is ready and warm to eat when I am!
I also like this as my soon to be 17 year old can make it without a single complaint and I am happy he is getting a good breakfast.
INGREDIENTS
4 eggs
4 slices of white American cheese
Your choice of meat:  Bacon, ham, or sausage (can also use turkey bacon, ham or sausage)
4 bagels
DIRECTIONS
Cook your choice of meat until cooked through
Pan fry the eggs…when the eggs are almost done top with cheese and finish cooking.
At this point I store the eggs in one container and the meat in a separate container and store in the fridge .
In the morning, toast your bagel (or if you are like my husband) place the egg and cheese on one half of the bagel, add your choice of meat, place the top on the bagel and microwave no more than 30 seconds depending on your microwave.  Serve or wrap in foil until ready.