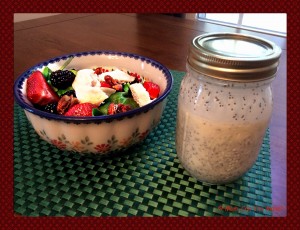 This is a great summer salad! I know at this point in the winter we are all ready for a fresh salad! This salad has a couple steps but I would highly suggest DOUBLING the recipe for the sugared pecans as they are so tasty, we could not stop eating them!
I added chicken to this recipe and used the same chicken marinade and cooking method I did in the Thai chicken salad.
It made a wonderful lunch!!!
INGREDIENTS
Fresh baby spinach
Sliced strawberries
Fresh blackberries
Sugared pecans (recipe below)
Creamy poppy seed dressing (recipe below)
SUGARED PECANS
1 tablespoon unsalted butter
1 1/2 cups pecan halves
1/4 cup white sugar
Melt the butter in a large skillet over medium high heat. Add the pecans and stir to coat well.Sauté the pecans until they are fragrant, about one or two minutes. Sprinkle with sugar and continue stirring as the sugar melts and coats the nuts. This should take about five minutes. Remove from heat and place the pecans on parchment paper. Let cool and store in an airtight container.
POPPYSEED DRESSING
3/4 cup mayo
1/4 cup milk (I used 1%)
1/4 cup sugar
1/4 cup white wine vinegar
2 tablespoons of poppy seeds
1/2 teaspoon of dry mustard
pinch of salt
Combine all ingredients and whisk until smooth. Transfer to a mason jar or other container and store in the fridge for up to one week.
Enjoy!

Slightly adapted from barefeetinthekitchen.com