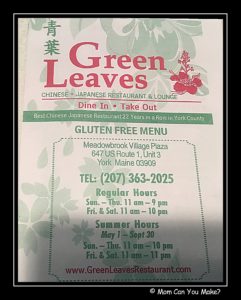 This review is going to be a little different as I will be focusing on the gluten free menu. As I have mentioned Robby has had some gut issues and going gluten free has helped.  Not only I am learning about gluten free diets, I'm also checking out restaurants that have gluten free options. I first heard about Green Leaves from my niece Becky, so I knew it would be good. The difficult thing was that it was in York, Maine about 20-25 minutes away. Not super easy to do a take out order, but I found myself in York last week meeting a friend and thought it would be the perfect time to check it out.
When I was with my friend, Amanda, I asked her if she had been to Green Leaves.  "Yes, it's a York favorite" she said.  She and her family all love it! After hearing that, I knew I had to stop in and grab some take out for Robby and I.
Green Leaves Chinese Restaurant and Lounge is located in the Meadowbrook Village Plaza on Route 1 in York, Maine. It was about 1:30 in the afternoon on a Wednesday  and I thought I would be in and out in no time. Boy, was I wrong this place was packed! The dining and lounge were almost completely filled with people and the To Go orders lined up on the counter! Wow! That was a crazy first impression. I got to the counter and asked for the gluten free menu and I was handed the menu from Andy, the owner. Andy was a super nice guy and said people come from all over for that menu. I explained I was one of those people too! He told me that when he remodeled his kitchen he put in two kitchens to be able to offer "certified" gluten free food. How amazing! I'm still learning about gluten free, but I know there are three things to look for.  Gluten Removed, Gluten Free and Certified Gluten Free. The safest is the Certified Gluten Free, so I felt really good about Green Leaves.
I ordered two items from the gluten free Chef's Special part of the menu. I ordered Crispy Beef with Broccoli and Sweet and Sour Chicken. These dishes do not come with a side of rice so if you want a side dish you need to order that as well. I ordered the vegetable fried rice for Robby and I to share.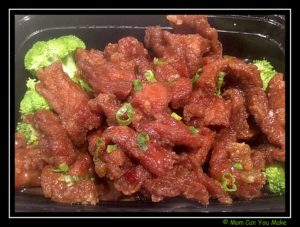 Let's start with the Crispy Beef and Broccoli ($11.95) this was my favorite dish. The beef…even after driving home for 20 minutes was still crisp but it was so juicy and tender. One of the best crispy beef dishes I have ever had, gluten free or not! Excellent dish!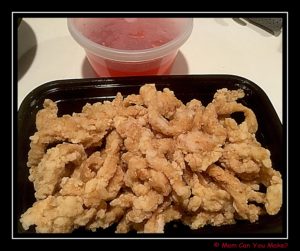 Next up was the Sweet and Sour Chicken ($10.95) I was a bit nervous with this hoping that they did not put the sauce on the chicken. For a take out order, you can see they do not! See those crispy bites of chicken? Yup still crispy but, Green Leaves has been voted the best Chinese restaurant in York County for 20 years in a row and counting!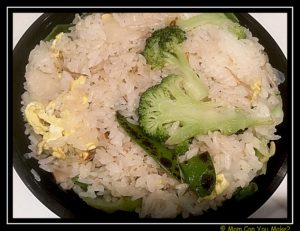 Last but not least was the vegetable fried rice ($7.95) . First I should mention the portion was big, more than enough for Robby and I. We had some leftovers for the next day! The rice had plenty of vegetables, broccoli and mushrooms galore! Over all everything we had was terrific and worth the drive. This is a place we would go to anytime we are in the area with or without our gluten free guy Robby!
This is only a small glimpse of what the gluten free menu has.  They have a sushi menu, lunch specials, a chef's special menu that includes what we ordered along with coconut chicken or shrimp, General Tso's chicken or shrimp, shrimp with walnut and salt and pepper chicken to just name a few things!
They have a number of fried rice options, chop suey choices, soups like chicken and rice, egg drop and hot and sour! The stir fry section of the menu is huge! All with chicken, shrimp and seafood choices. This gluten free menu goes all the way to dessert, things like green tea ice cream, fried banana's, and mango mousse cake!
I have only given you a small glimpse of what Green Leaves has to offer from the gluten free menu.  The non-gluten free menu is even bigger! Green Leaves opens daily at 11 am and you can also checkout their website.  http://www.greenleavesrestaurant.com/
NOTE – Robby and I did not come close to finishing either dish so I have learned that the best way to re-heat Chinese food (or pizza and seafood) is to place the leftover's on a foil covered baking sheet.  Place the baking sheet in a COLD oven. Turn the oven to 330 degrees and when the oven bell rings to say the oven is heated, that's when you take the sheet pan out and enjoy your leftovers! I kept the sauce from the sweet and sour chicken separate and just heated that in the microwave!
Take some time out this summer and stop in and see Andy at Green Leaves!
Enjoy!