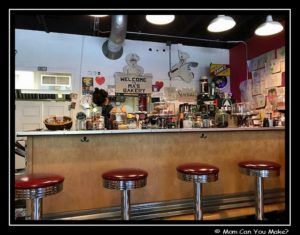 A few weeks ago Jim and I went to the Far Out Diner at 99 Oak St. in Dover N.H. This is a funky little place, and I really mean little, they only have about ten seats but it's not about how big they are it's about the service and food right? When we walked in. there were only two tables open, we were greeted and had the menu right away. They also have a chalkboard with all of their specials for the day. We loved the menu! It's not a huge menu but it's so creative with some really fun flavor combinations.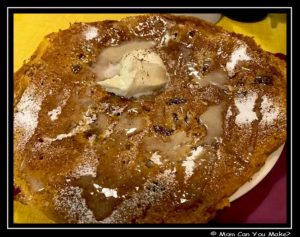 I had one of the specials of the day and that was the Pumpkin Saucer Cake with cinnamon sugar and maple butter on top. This pancake or as they call them "Saucer Cake" was huge. I had to eat my way to just find the plate! This was one very delicious, fluffy pancake filled with the wonderful pumpkin flavor.  The addition of the cinnamon and sugar and maple butter really brought this dish together and over the top. So many delicious flavors in just one bite. This was a perfect dish on a fall day.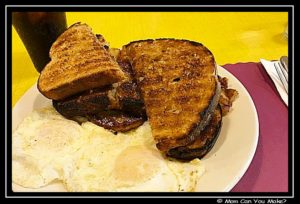 Jim ordered from the regular menu and had two eggs over easy, potatoes, sausage and hearty toast. Jim enjoyed his dish just as much as I enjoyed mine. Everything was cooked perfectly, seasoned well and look at that toast made with house-made bread!
The service here is friendly and attentive, our glasses were always full and our waitress checked on us making sure we had everything we wanted. Did I mention the Far Out Diner has an alien theme?
It's a lot of fun to look around the restaurant and see everything they have collected. I see something new each time we go in. Some of the food names have the alien theme like my "Saucer Cakes".  This place has not only good food, good service, but a great sense of humor!
Earlier I mentioned they have some fun flavor combinations so I thought I would share a couple of them.  How about a banana, Reese's chip saucer cake? Or the Bene-don with poached eggs on a sausage patty and house-baked donut topped with hollandaise. They also make their own muffins, scones, pies, biscuits, and bread.
The Far Out Diner is closed on Tuesdays but opens the other days at 7 am.  You can get breakfast, lunch or brunch on Sundays. The diner has a Facebook page where they keep you updated with the daily specials and anything new they have going on. Give them a like on Facebook and go to find this Dover's hidden gem, you will love it!  https://www.facebook.com/faroutdiner/
Enjoy!