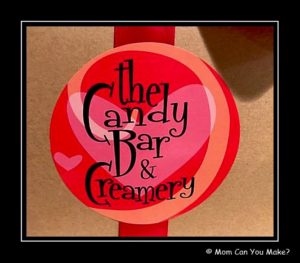 I absolutely love this little "gem of a shop" in Durham, NH. The Candy Bar and Creamery has everything you can possibly imagine when it comes to handmade chocolates and candies, but that's just the beginning they have so much packed into this one store.  I think I walked around the store ten times and found so many new things each time through! They have an array of chocolate candies, chocolate covered strawberries, pretzels, Oreos and everything in between. One 0f the more interesting items they have is the microbrew beer truffles. What a great gift for the beer lover in your life!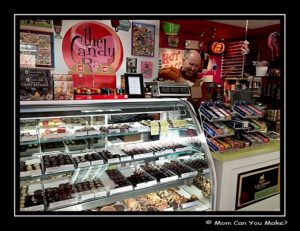 Chocolate is not the only thing you will find here. How about some handmade caramels or homemade marshmallows in various flavors.  Those marshmallows will really step up the s'more game this summer! Or maybe macaroons are your thing.  They have those too, and of course in various flavors along with several types of fudge. Recently they were featured on Chronicle highlighting the best hot chocolate in the state, but the Candy Bar and Creamery does not just offer one kind of hot chocolate…they offer 14 different hot chocolate flavors. Yes, 14!  Think hot chocolate with one of those homemade marshmallows! Yes, please!
On to my favorite part of the store…the locally made ice cream and the insane shakes they made with it! They have lots of shakes filled with all the yummy goodness you could possibly want.  A s'more shake with toasted marshmallow, a salted caramel shake or maybe you want a cupcake flavored shake, they have that too.  For Valentine's Day, they offered a chocolate covered strawberry shake with 2 chocolate covered strawberries, shortcake, fudge and more. This is just the beginning of the shakes they offer.  Or maybe you would like a Fluffernutter Shake, a Cookie Monster Bomb Shake, a Killer Clown Shake or my favorite, a Peanut Butter Blast Shake! Yes! So many choices.  Here is a little-known secret… they have a super secret "off the menu shake list" so when you go, ask them what they have and you will not be disappointed!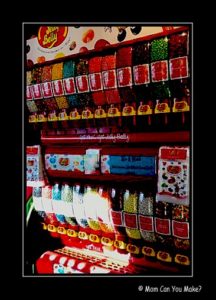 The Candy Bar and Creamery specialize in sweets for parties, special occasions, wedding, events and party favors.  If you need a gift basket they can do that too. Big or small they can do it and do it well! The Candy Bar is a veteran owned and operated business that is open 7 days a week until 7 pm.
They are located at 44 Main Street in Durham NH.
While we were there speaking with the owner, he said they will be opening a new location in Dover in the mill building downtown! Stay tuned…Dover friends! You can find out more information about the Candy Bar and Creamery on Facebook. Be sure to give them a like as well.  Their small webpage is still being worked on! Be sure to check them out!
https://www.facebook.com/thecandybarnh/
Enjoy!